Kristi Bispo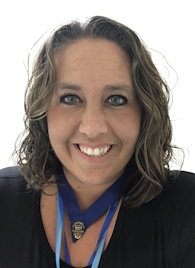 Kristi was introduced to barbershop at just five years old when her mother joined the Diablo Vista Chorus. She's what you might call a barbershop brat, participating in Young Women in Harmony events from the time she was in middle school. Kristi began studying instrumental music in 4th grade, playing woodwinds (Her favorite was bassoon!) in award winning concert ensembles and marching band. Kristi found herself missing music after college, so she joined her mom on the risers at DVC. She quickly fell in love with the rich barbershop sound, especially TAGS! At regional and international events you'll find Kristi singing tags into the wee hours of the morning!

Kristi has competed in numerous quartets, winning regional medals of every color. In 2016, she won Region 12's quartet contest with her quartet Turbulence! She has also been a member and section leader in choruses such as regional champions Mission Valley, Bay Area Showcase and Diablo Vista Chorus, and is still a competing member of DVC. She also serves as a Region 12 Faculty member, providing personal vocal instruction and coaching quartets and choruses.

By day, Kristi works as a Microbial Strain Engineer at Novozymes, which is a fancy way of saying she plays with mold to produce new proteins! When she's not working or singing, Kristi loves family adventures with her daughters, Ana and Taylor, and fiancé, Donnie, such as kayaking, camping, boating, swimming, hiking and cheering for her beloved Golden State Warriors!!!

Kristi is thrilled at the opportunity to take the helm at Sacramento Valley and can't wait to see what joys this new adventure brings!