Chapter Chats Article for Pacific Shores Region 12 - September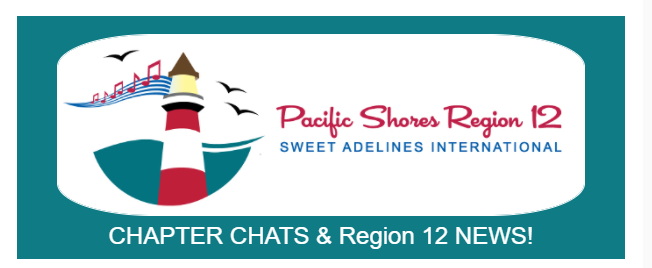 | | |
| --- | --- |
| Type of post: | News - for public display on Latest News section |
| Sub-type: | No sub-type |
| Posted By: | Petra "Piet" Chini |
| Status: | Current |
| Date Posted: | Tue, Sep 20 2022 |
In August, Sacramento Valley Chorus took a vacation. We start up again on September 21st all rested and ready to go.

On September 28th we start our Harmony Academy with our first guest night of 10. We are looking forward to many guests interested in learning more about SVC, SAI, and being a part of our Winter Holiday Show in December.



We would like to wish all of Region 12's International competitors the best of luck. We will be watching and cheering you all on. Best wishes too to our SVC dual members with PEC - Nancy Maas, Alison Miller, Desiree Hughart, Valerie Richie, Sandy Cope, and Kerry Kaempf-Wood.




Thank you, Sweet Adelines International, for putting on a webcast so that we can all watch from home. We are so excited to see and hear 4-part harmony again.