The Extension Chords is a group of 24 women who are active members of the Sacramento Valley Chorus, a chapter of Sweet Adelines International, a barbershop singing organization. These women are available to perform in smaller venues that would not accommodate the larger 100+ member Sacramento Valley Chorus. We sing for a wide variety of groups, such as schools, retirement groups, and convalescent homes. Our purpose is to demonstrate our joy of singing and spread information about our uniquely American craft, four-part a cappella harmony in the barbershop tradition. We know we have succeeded when we notice the audience tapping their toes or singing along with us.
This musical group is directed by Dede Nibler. She has been a part of the Int'l organization for many years, has directed other choruses and sung in several quartets. She enjoys sharing her wealth of knowledge with The Extension Chords. She is also the director of the large chorus. The assistant director is Bonnie Flint.
This group is available for performances. Contact the Extension Chords Performance Manager.


ENCORE HARMONY QUARTET
Encore Harmony is an a cappella double quartet. Members of Encore Harmony include a music teacher, a realty finance officer, and a retired sheriff's deputy. Several of us are retired and semi-retired. We're busier than we were when we had full time jobs!
This experienced ensemble performs a variety of four-part harmony for special public and private events during the year including holiday entertaining. You may even see a musical instrument or two or three.
We perform at various venues during the year including State Fairs, Service Clubs, Military functions, convalescent and retirement homes, private parties, concerts and shopping malls . . . to name a few.
We invite you to enjoy the musical and comedic talents of the ladies of Encore Harmony.

Current history of these members

Adrienne Wright and Jannie Baker are currently members of SVC
Mikki Melton, Mary-Lou Munson, Dawn Wisecarver, Joan Eckert and Christi Shea
are former members of SVC
Dawn Wisecarver, Mary-Lou Munson, and Joan Eckert are currently members of Sierra Gold Chorus
Christi Shea and Mikki Melton are currently Chapter At Large Members
Dina Lalkaka is new to the organization and soon to be a Chapter-at-Large member.
Double Quartets have 8 singers, even though the above picture only shows 7 singers. Dina was MIA.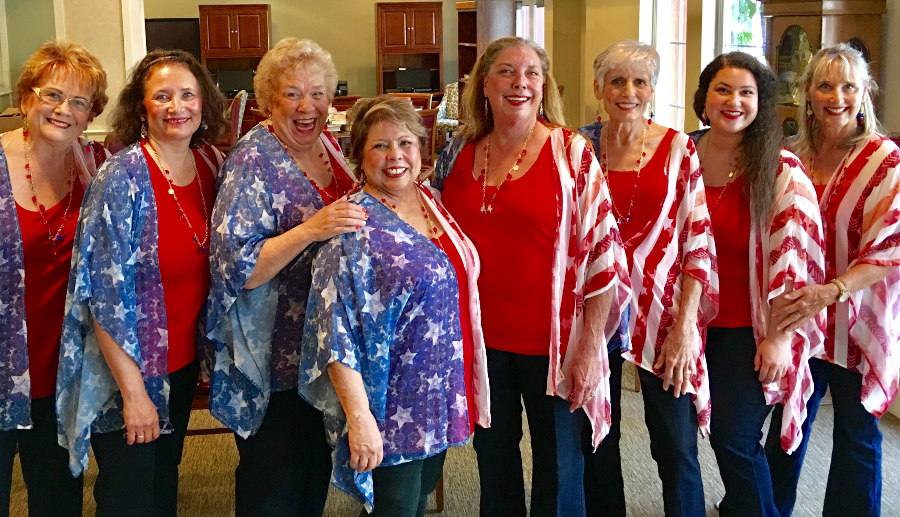 Tenors: Jannie and Dina Leads: Mary-Lou and Christi
Baritones: Joan and Adrienne Basses: Mikki and Dawn

The original group was formerly known as "ENCORE", a double quartet
Over the years there were some changes with the personnel.